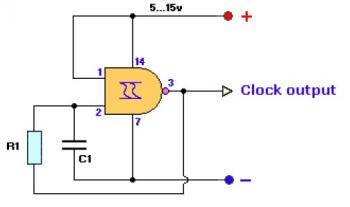 This is the
circuit diagram
of Clock Generator circuit based NAND logic gate. You can use 4011 for CMOS IC and 7400 for TTL IC.
Circuit Notes:
Excellent clock generator to drive 4017 type CMOS circuits.
Fo is ±1Kz when R1=100K and C1=10nF.
R1 = 10K to 10M, C1 = 100pF to 47uF.
Input voltage can be from 5 to 15V.
Sample IC CMOS NAND gate 4011 pinout: