This is an intercom circuit which use LM380 as the audio amplifier and 2 transistors as the microphone pre amplifier. The sound quality will be good enough with low cost building.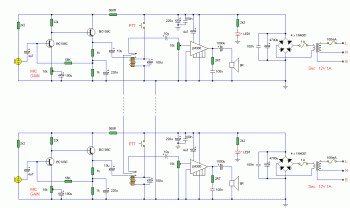 This circuit consists of two identical intercom units. Each unit contains a
power supply
, microphone preamplifier,
audio
amplifier and a Push To Talk (PTT) relay circuit. Only 2 wires are required to connect the units together. Due to the low output impedance of the mic preamp, screened cable is not necessary and ordinary 2 core speaker cable, or bell wire may be used.
Detail explanation about this intercom circuit include the PCB layout,
please visit this page