This is a stereo audio amplifier circuit that provides 12W output power on each audio channel. This simple circuit is built on a single integrated circuit of TDA1521 / TDA1521Q, and only supported by few external components.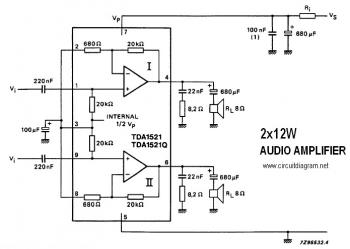 TDA1521/TDA1521Q is a dual high-fidelity audio amplifier encapsulated in a plastic 9-leads. The device is specially designed for power supply applications (eg, stereo TV and radio). A heatsink is needed to prevent overheating the IC.
TDA1521/TDA1521Q features:
Requires very few external components
Low offset voltage between output and ground
Input muted during power-on and off
(no switch-on or switch-off clicks)
Hi-fi according to IEC 268 and DIN 45500
Excellent gain balance between channels
Short-circuit-proof
Thermally protected
This hi-fi stereo power amplifier is designed for mains fed applications. The circuit is designed for both symmetrical and asymmetrical power supply systems. An output power of 2 x 12 watts (THD = 0,5%) can be delivered into an 8 W load with a symmetrical
power supply
of ± 16 V.
Download the TDA1521/TDA1521Q Datasheet
Here