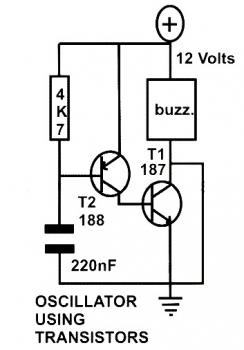 This is the
schematic diagram
of basic oscillator circuit which using two transistors. When two transistors and a couple of passive components are connected as shown in the figure, the circuit starts to oscillate. The frequency of oscillation can be adjusted by changing the values of either the resistor or the capacitor.
For easier experiment, you may replace the resistor with 10K potensiometer. By increasing its frequency to a suitably high level, it can be used to drive a speaker or a buzzer to produce an audio
alarm
note. By sufficiently reducing its frequency, the
circuit
may be used to flash a LED as a warning indicator.
The another circuit of two transistors oscillator described in the following video: